Gastronomy app of the year 2022
The

digital

future

of

gastronomy
Higher customer satisfaction
Always there when you need good service.
Take the pressure off your team. Reduce errors. Increase sales. With servier.bar, your guests order and pay themselves via smartphone. This way you can grow and focus on the essential things.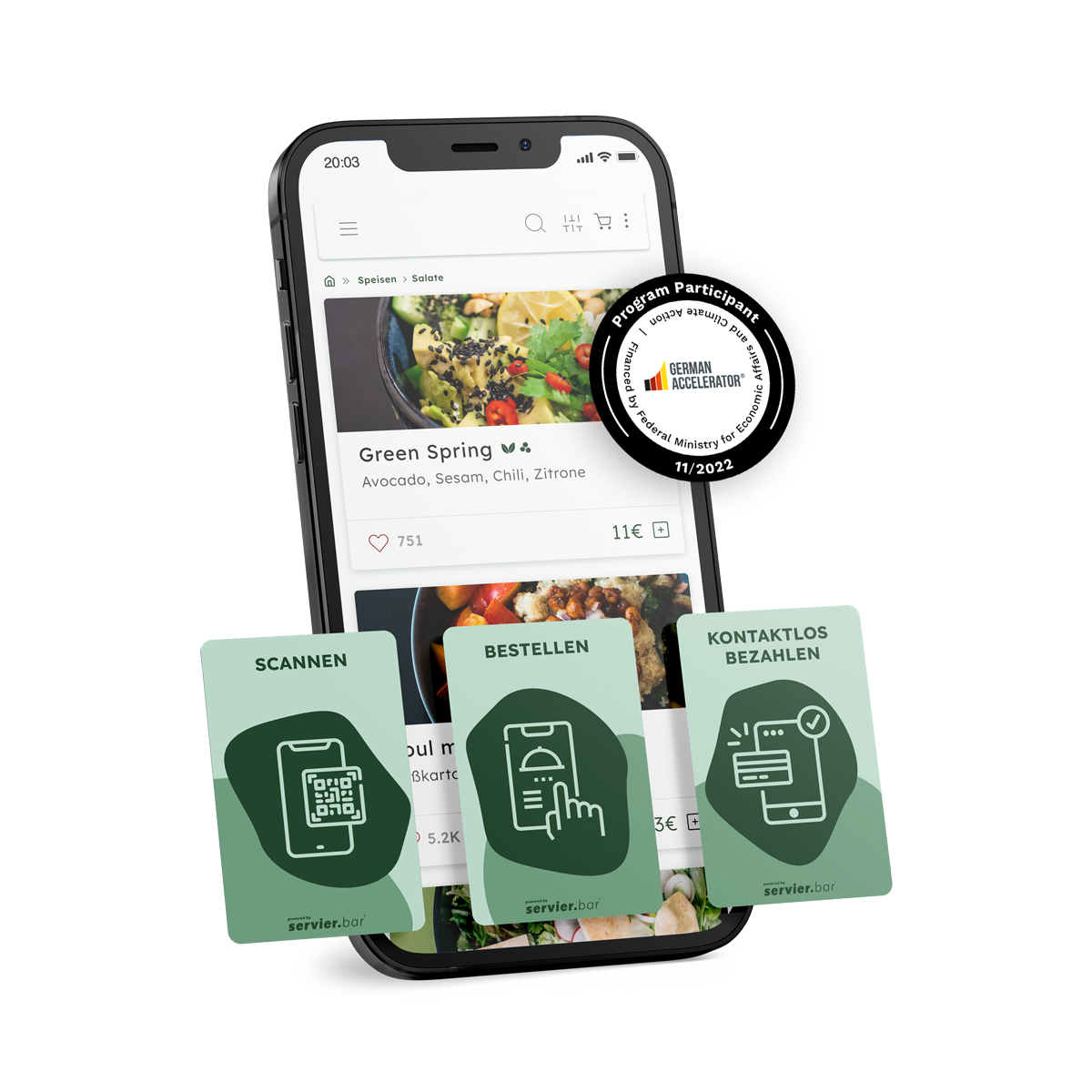 Quick
Register and get started! You are ready to go within a few minutes – If you wish, we will enter your entire map.
Flexible
Customize your digital menu anytime, anywhere. No matter if price changes or new dishes – your map always stays up to date!
Individual
Represent your restaurant on the smartphone of your guests. Customize colors, fonts and images according to your wishes.
Free version
servier.bar is and remains free of charge in the Free Version. Fees apply only to Premium & Expert versions.
Just get started
No download or account needed – your guests can just order and enjoy!
The best waiter
Order taking, recommendations, billings, tips. And that for hundreds of guests at the same time.
Artificial intelligence
Shows ordering habits, automates processes and increases your reach.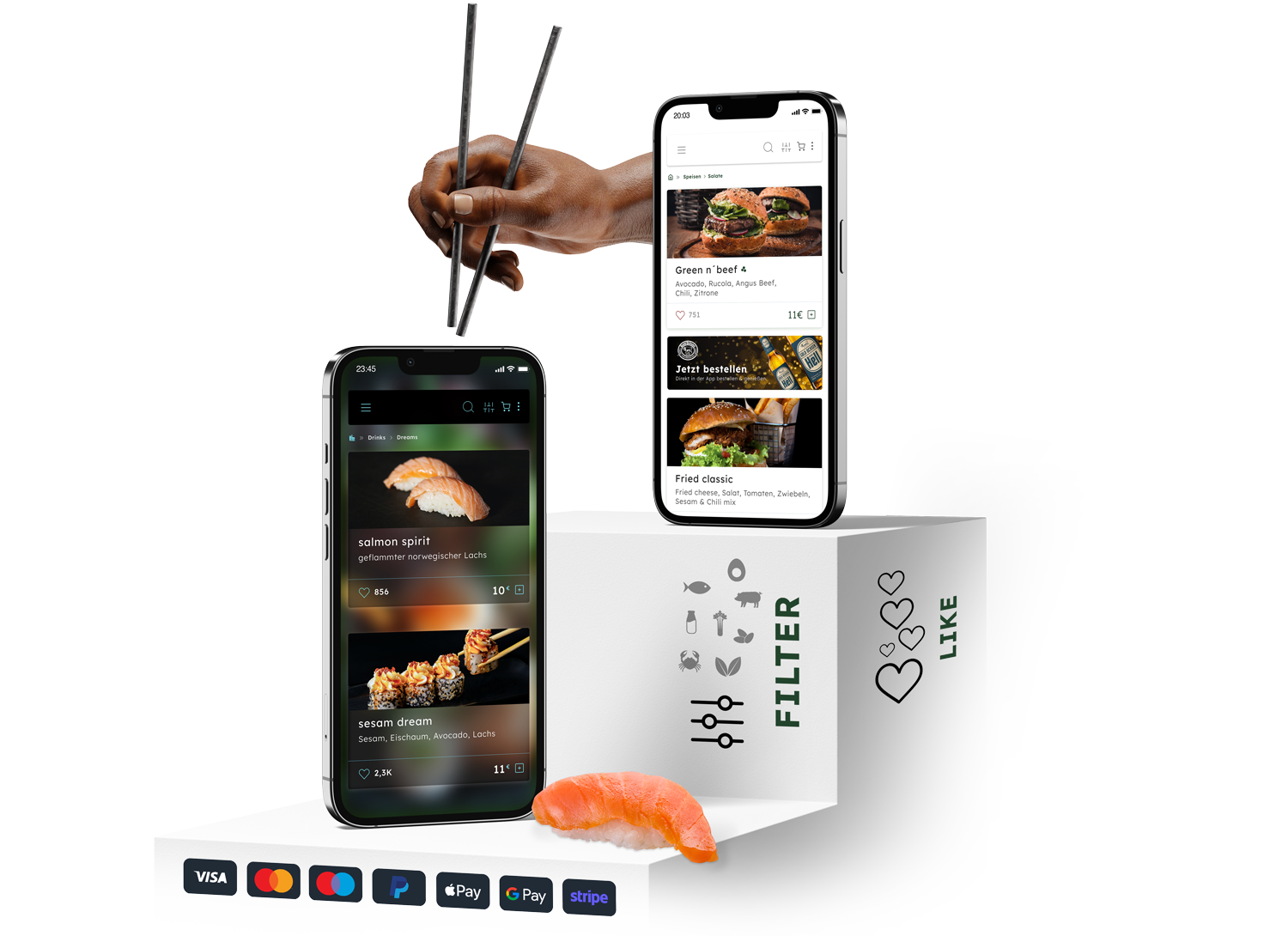 Together for a digital future
What the gastro community says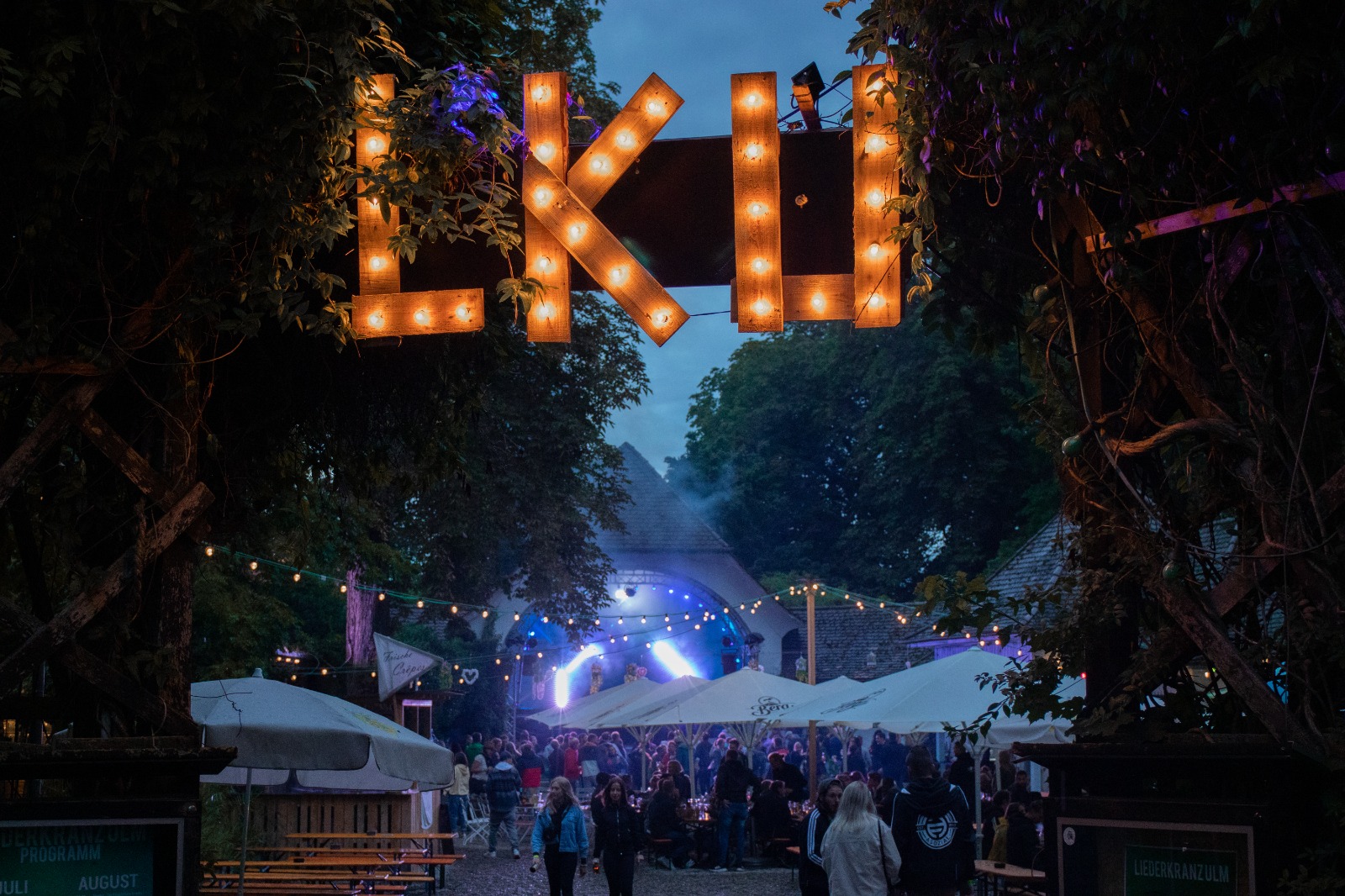 The Servier.bar team is super communicative and finds solutions quickly, which is worth its weight in gold, especially in the event sector. These guys just understand what makes restaurateurs tick. Thanks to the digital menu, our guests can now choose what they want to eat and drink on their cell phones at any time - whether in line or chilling out in the location. All in all, a super cool solution!
Liederkranz Ulm - Event Location
Daniel citizen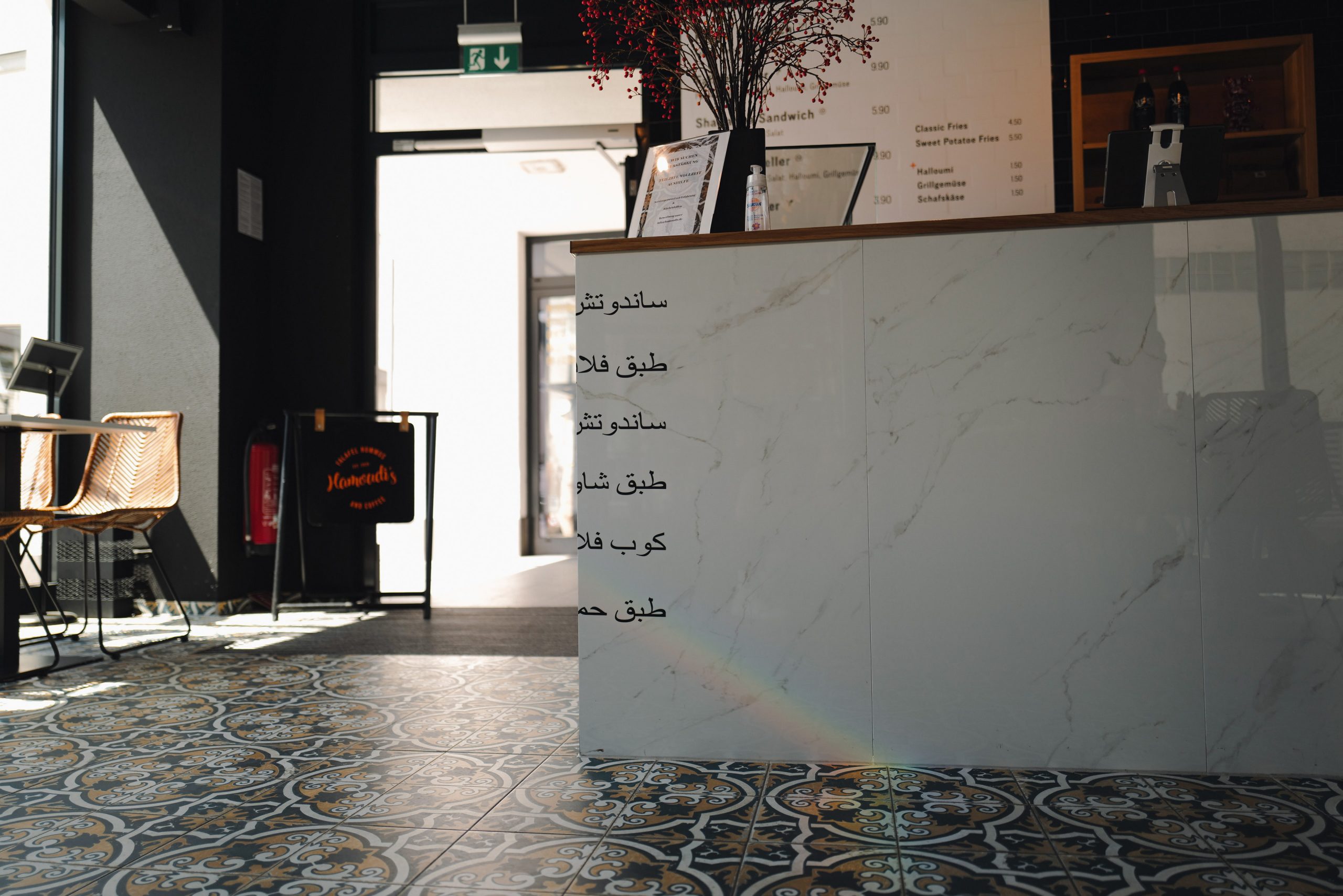 The relief I needed! In the current time it is difficult to find personnel. Because of this, I'm often on my way to the store knowing that an employee is missing from the counter and I have to fill in myself. here servier.bar is the best support for my team and me. More turnover and less stress at the same time! My guests can now inform, order and pay themselves through servier.bar. This allows me to compensate for the lack of personnel in many situations. We have really become faster and more effective as a result!
Hamoudi's - Restaurant
Labib Tourki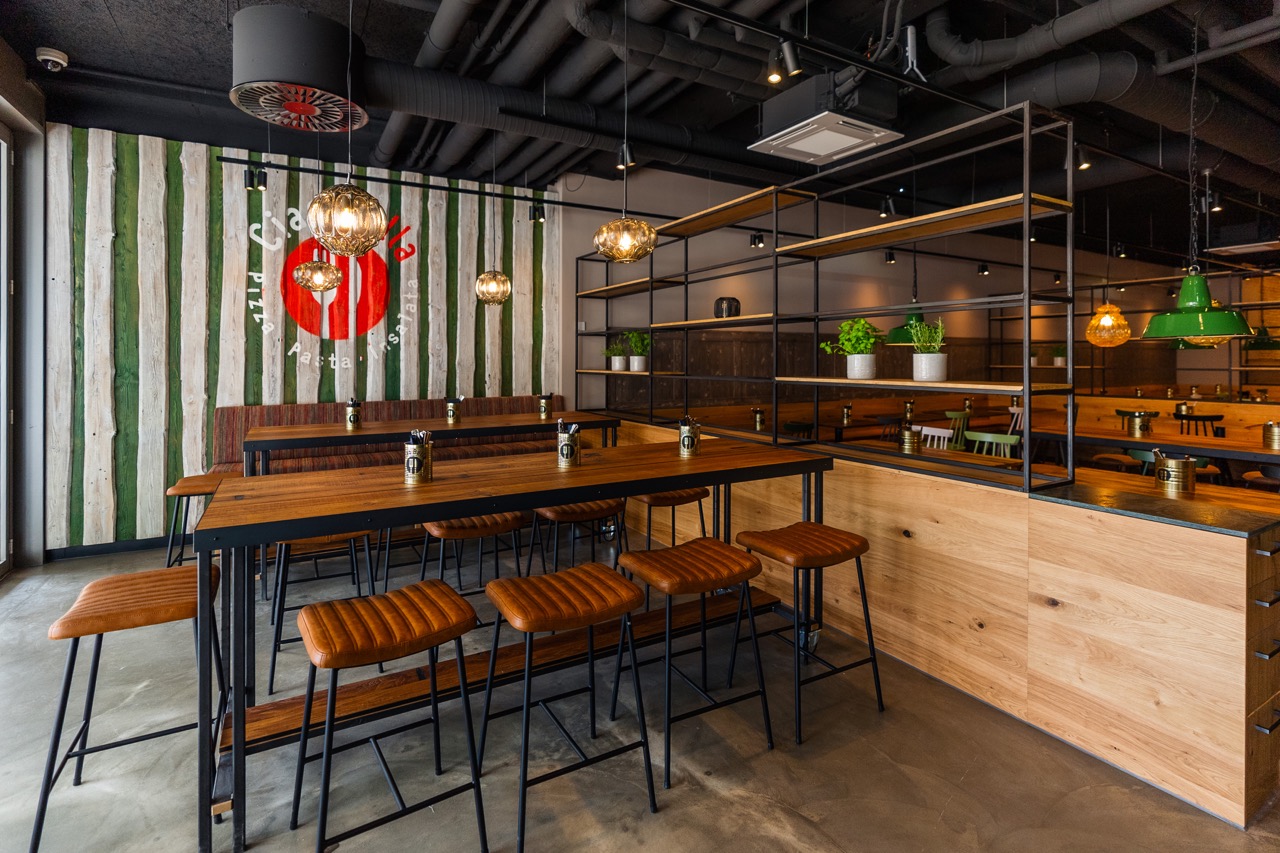 Digital menu & pickup - all from one source! servier.bar is not only the booster for our out-of-home sales, through which guests can order online, pay directly and pick up. We also got a photo and video shoot and automated our social media marketing with the help of servier.bar's social media team. All pictures and videos can be used for the menu and our social accounts. A mega service, and all from a single source - that's what makes digitization fun!
Ciao Bella - Restaurant
Luigi Macchia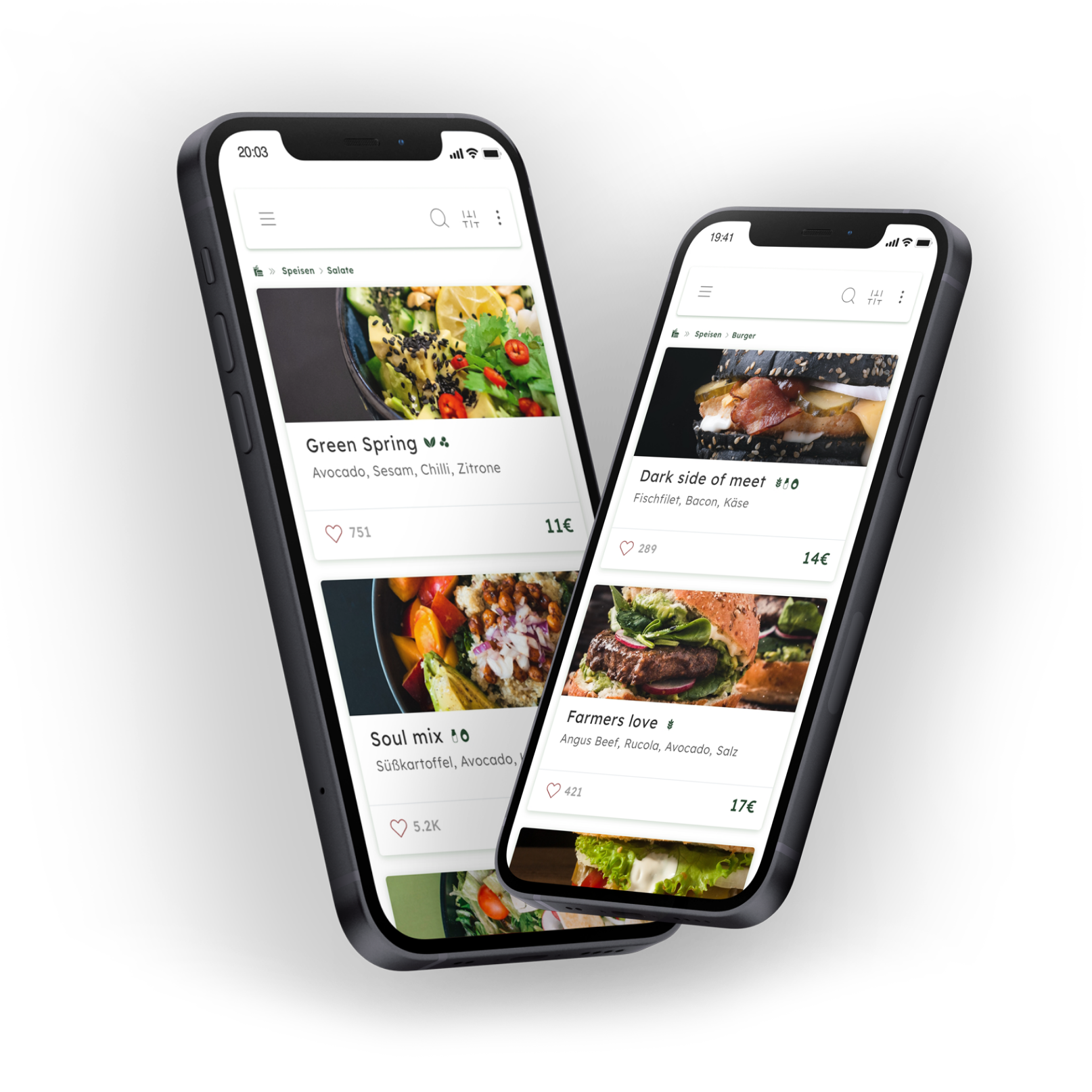 That is why we have developed servier.bar
The vision of servier.bar is to support restaurateurs with the right tools to act more economically, relieve staff and boost sales. In addition, thanks to the QR code and web app, guests receive a personalized experience with every visit. The menu is customized to personal preferences and orders can be placed anywhere, anytime. The payment is made contactless via all common payment providers.
What are you waiting for?
G

e

t

s

t

a

r

t

e

d

i

n

3

e

a

s

y

s

t

e

p

s
How to create your own self-ordering system without much effort and technical know-how.
1. Register yourself and your restaurant
Click on the button below and register your restaurant with servier.bar. You will receive a confirmation email from us.
2. Enter menu
Thanks to intuitive operation, it is very easy to adapt to you and your restaurant. Variations and extras facilitate extensive maps.
3. Activate order function
Activate the order function and perform the onboarding. Your sales are transferred to your bank account on a daily basis.
A glimpse behind the scenes. The latest updates on servier.bar: Press articles, podcasts and awards.
Inno Bytes Podcast
Digital waiter for catering businesses with Benedikt Hitzler and Daniel Binder from servier.bar GmbH
servier.bar is the digital helper for all pubs that serve. You too can become part of our family!
A community that helps each other
Benefit from the partners in the network
The most advanced App on the market